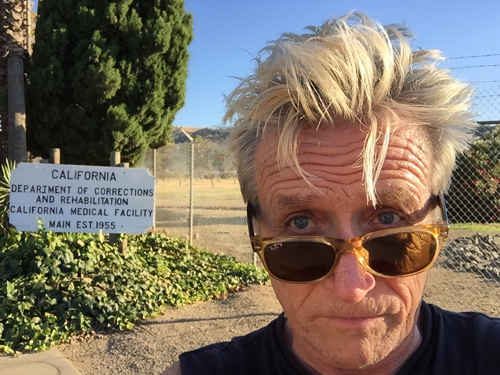 Patrick O'Neil was just another name being thrown around by this world class namedropper in my Creative Writers Guild. He meant nothing to me, just another name in a long list of names that Boston, captain namedropper, kept regurgitating week after week in our group. Patrick this, Patrick that, Patrick's a punk rocker, Patrick's an ex-junkie, Patrick wrote a book. Next thing I know Patrick is coming to speak to our group. Okay, now I'm interested. I knew Boston received a copy of his book and unlike 99% of the members of my writers group I wanted to be hip to the dude's book so I got it and read it.
Gun Needle Spoon, Patrick's memoir, wow! It's a brutally honest telling of a tragic life as a junkie. His life is a horrific fatal car accident you can't just look away from. From the beginning, a disconnected youth with no place to call home, a father leaving, and mom's suicide attempts. It is clear he felt lost and abandoned. He struggled in academics striking a blow to his self-esteem. Only then did he find solace in sugary treats. Unfortunately, this led to extra pounds, body image issues, and an eating disorder. All these troubles of youth and still to come, punk rock, addiction, crime, and prison. Patrick's story sounds all too familiar to us prisoners. I now look forward to Patrick's arrival.
Patrick made it out to CMF and he's for real. A genuine dude with a fuck you if you don't like it attitude. What I liked most is he's so casual and easy to understand. When he began to share with us his experience writing a book, I thought there's no way he can fill the time. Not only did he fill the time, but some of us skipped dinner just to enjoy his company a little longer. Patrick came to see us prisoners and he shared openly. His personal experience enlightened us to the pro's and con's of writing a book. He inspired all, made us laugh and smile, and was a joy to listen to. I'll never forget that scumbag.
Punk Rock Billy
California Medical Facility
Vacaville, State Prison