Before his life went totally off the rails, Patrick O'Neil was living the punk rock dream, working at San Francisco's legendary Mabuhay Gardens, going on to become a roadie and then the road manager for such seminal bands as Dead Kennedys, Flipper, Subhumans, and T.S.O.L. But that was before his heroin addiction veered totally out of control. A junkie for eighteen years, O'Neil, the educated son of intellectuals, eventually turned to a life of crime, ending up the ring-leader of a group of armed bank robbers, all in an increasingly out-of-control attempt to keep himself and his girlfriend in drugs. Now, after a stint in prison and fourteen years clean off drugs, O'Neil takes a look back at the experiences—moving, calamitous, and at times both hilarious and terrifying—that led to his downfall and recovery. Told in sparse prose and graphic detail, GUN NEEDLE SPOON examines the long road to redemption, and the obstacles along the way, demystifying the "criminal life" so often depicted in film and fiction, but seldom written about from the first-hand point of view of those who have lived it.
Praise for GUN NEEDLE SPOON:
"GUN NEEDLE SPOON is a great read. O'Neil speaks the truth plainly. Real, honest, pure natural good writing with no self-pity and at the same time no bragging. A page turner. Wish I could write music like O'Neil writes prose."
— Klaus Fluoride, Dead Kennedys.
"GUN NEEDLE SPOON is like having a near-death experience… with Patrick O'Neil's life flashing before your eyes."
— Craig Clevenger, author of THE CONTORTIONIST'S HANDBOOK and DERMAPHORIA
"Ever wondered what it would be like to live your wildest fantasy and your darkest nightmare at the same time? In this skillful turn, Patrick O'Neil has saved you the trouble. A ferocious story of survival and redemption, only the beating, honest heart at the core of this sensational book will convince you that every word is true."
— Jillian Lauren, NYTimes bestselling author of SOME GIRLS: MY LIFE IN A HAREM
"Patrick O'Neil is the kind of literary character who doesn't usually live to tell his own story, who too often has to be rendered and re-imagined by a writer who played it safer from the sidelines. The fact that O'Neil—a haunted, hunted outlaw, as well an uproariously funny observer of society—is able to give voice to his own complex and dangerous story would be enough to distinguish GUN NEEDLE SPOON from most other books. But O'Neil is also the real deal as a writer, full of frenetic energy, unsettling tenderness, and dialogue that sounds like he's smuggled a tape recorder to hell and back. A one of a kind read."
— Gina Frangello, author of A LIFE IN MEN
"O'Neil might have just founded a new nonfiction genre, Narcotic Noir. This book is a beast!"
— Joshua Mohr, author of FIGHT SONG
"GUN NEEDLE SPOON grabs the reader from the very start and doesn't let up until you've turned the last page and are left moved, disturbed and a little out of breath. This harrowing, brutally honest, and unexpectedly redemptive debut firmly establishes O'Neil as a truly original voice in contemporary literature."
— Rob Roberge, author of THE COST OF LIVING
"For all the dark, desperate places life has taken this man, he should be dead. That Patrick O'Neil is alive, let alone writing brilliantly is a testament to his tremendous courage, remarkable strength, and the power of redemption against all humanly odds. O'Neil is an extraordinary talent. "
— James Brown, author of THE LOS ANGELES DIARIES
"Patrick O'Neil's GUN NEEDLE SPOON reads like a novel, a crazy, funny, perverse, heartbreaking memoir you're both relieved and reluctant to have finished. The jarring truth that it all actually happened is what takes it one step beyond into the realm of the mythic. You must read this."
— Scott Phillips, author of HOP ALLEY, and COTTON WOOD
"GUN NEEDLE SPOON is a wild, tender ride of a memoir that you'll never forget. Fierce, funny, and true to the bone, O'Neil's voice is as real and memorable as they come. Read it."
— Emily Rapp, author of THE STILL POINT OF THE TURNING WORLD
"GUN NEEDLE SPOON is told the only way drug memoir should be told: nonlinear and disjointed. Paranoia is your friend. A gun is your ATM card. And like every drug story, it's a love story, told through a hole in the arm."
— Bucky Sinister, author of KING OF THE ROADKILLS & GET UP
"Patrick O'Neil has managed the unusual feat of writing about a battle scarred life with both toughness and vulnerability, but without posturing or sentimentality. GUN NEEDLE SPOON brings to mind Denis Johnson and Jim Carroll without sounding exactly like either. This book has the spare, lean energy of classic crime writing and is both entertaining and full of insight. A great read."
— Jesse Michaels, OPERATION IVY
Patrick O'Neil with some helpful tips on bank robbing.

Posted by Haldane King on Tuesday, July 14, 2015
REVIEWS for GUN NEEDLE SPOON:
"Patrick O'Neil's recent memoir, Gun, Needle, Spoon, follows [the addiction memoir's] well-worn narrative tracks but also manages to push out of them in ways that are surprising and significant.
— Lindsay Marshall, American Book Review
"The omissions, the prose, and the patience with which he tells his frequently disturbing tale all add up to a whole greater than the sum of its excellent parts. Patrick O'Neil is a fantastic writer, and this is a hell of a debut."
— Michael T. Fournier, Razorcake
"GUN NEEDLE SPOON is a work of tremendous courage, one which strikes a perfect balance between bluntness and beauty—O'Neil is a truly gifted storyteller—and gives readers a peek behind the curtain of a life most have only ever seen in fiction."
— Elizabeth A. White
"That's why I find GUN NEEDLE SPOON so compelling. It dramatizes a big addiction in a way that sheds light on our little addictions. We're addicts, but not heroin addicts. If O'Neil can come back, so can we."
— Art Edwards, Entropy Magazine
"Patrick finds a way to dance on the razor's edge of emotion while not becoming sentimental."
— Jacob Singer, Curbside Splendor
"O'Neil either doesn't give a damn what you think, or he simply trusts the reader to be smart enough to make their own judgments. He offers his story with grim humor and unsettlingly vivid imagery."
— Gabriel Ricard, Drunk Monkeys
"If anyone knows the gritty consequences associated with the junkie life, Patrick O'Neil's debut memoir is that secret within the secret."
— Antonia Crane, Electric Literature
REVIEWS:
"Motivational Books for Recovery" Mountain Laurel Recovery Center, August (2018)
<"Top 13 Books to Read in Recovery" Recovery Ways, April (2017)
"Addiction Recovery Literature Including How To And Memoirs – Part 2" Single and Sober, February (2017)
"3 Books Inspired By Addiction and Recovery" Holistic Addiction Treatment, July (2016)
"Six Powerful Books About Addiction and Recovery" Electric Literature, 21 August (2015)
"Gun, Needle, Spoon by Patrick O'Neil" Drunk Monkeys, 3 August (2015)
"Ghost Paved-Road" American Book Review, Volume 36, Number 5, July/August (2015)
"The Regeneration of Patrick O'Neil" Curbside Splendor Publishing, 23 July (2015)
"Gun, Needle, Spoon by Patrick O'Neil" Entropy Magazine, 20 July (2015)
"Gun, Needle, Spoon by Patrick O'Neil" The St. Augustine Record, 6 July (2015)
"Gun, Needle, Spoon by Patrick O'Neil" The Florida Times Union, 6 July (2015)
"Gun, Needle, Spoon by Patrick O'Neil" Bluffton Today, 6 July (2015)
"Gun, Needle, Spoon by Patrick O'Neil" Savannah Morning News, 6 July (2015)
"An Honest Trip: a review of Gun, Needle, Spoon by Patrick O'Neil" Atticus Review, 4 July (2015)
"Gun, Needle, Spoon by Patrick O'Neil" Elizabeth A. White, 3 July (2015)
"Gun, Needle, Spoon by Patrick O'Neil" ShehlaGrr, 6 June (2015)
"Gun, Needle, Spoon by Patrick O'Neil" Razorcake, 7 May (2015)
"Gun, Needle, Spoon by Patrick O'Neil – Book Review" Caleb J. Ross, 9 April (2015)
"Gun, Needle, Spoon" Portland Book Review, 30 January (2015)
EXCERPTS:
"Almost Home" Lunch Ticket, October (2017)
"The Entertainment Capital of the World" Angel's Flight – Literary West, March (2017)
"I'm Starving" Sensitive Skin Magazine, January (2016)
"Learning New Behaviors" Arts Collide, October (2015)
"I was An Addict Who Needed Cat Food" AfterPartyMagazine, August (2015)
"Last Day, San Francisco, June 25th 1997" The Nervous Breakdown, June (2015)
"Los Angeles, July 7, 1990" The Weeklings, June (2015)
INTERVIEWS:
"Gun, Needle, Spoon" Snowflakes in a Blizzard, September (2018)
"One Question: Patrick O'Neil" Hypertext Magazine, April (2017)
"Q&A With Patrick O'Neil by Seth Fischer" Angel's Flight – Literary West, March (2017)
"Gun Needle Spoon" Last-Door Society, Talk Recovery Radio, August (2016)
"An Interview with Patrick O'Neil" Dzanc Books, October (2015)
"The Regeneration of Patrick O'Neil" Curbside Splendor Publishing, July (2015)
"Prison Saved Punk Rock Addict" San Francisco Chronicle, July (2015)
"Book Notes – Patrick O'Neil 'Gun, Needle, Spoon'" Largehearted Boy, July (2015)
"The Sunday Rumpus Interview: Patrick O'Neil" The Rumpus, July (2015)
"Roadie+Junkie+Robber = Author" Life Elsewhere, WMNF 88.5, June (2015)
"TNB Self-Interview" The Nervous Breakdown, June (2015)
"Gun, Needle, Spoon" Shelf Unbound, June (2015)
"Patrick O'Neil – Gun Needle Spoon" Book Talk, Breakthru Radio, May (2015)
PODCASTS/VIDEO READINGS:
"Patrick O'Neil reads excerpts from Gun, Needle, Spoon" Gorsky Press, August (2015)
"Patrick O'Neil" Why There Are Words, July (2015)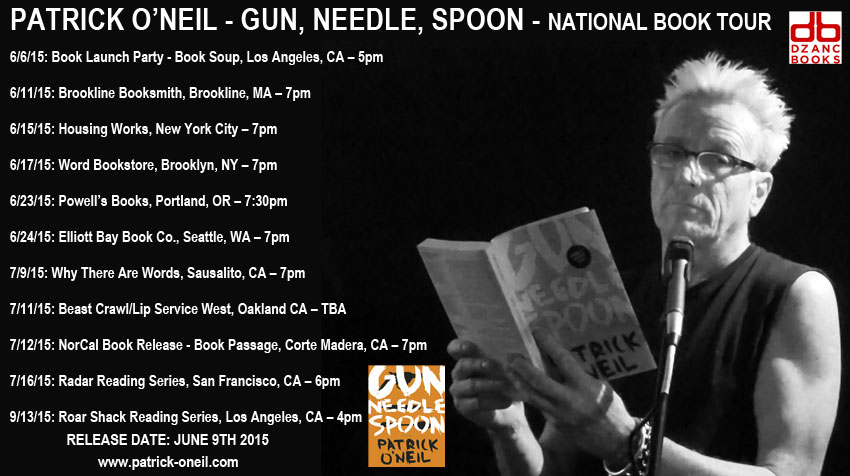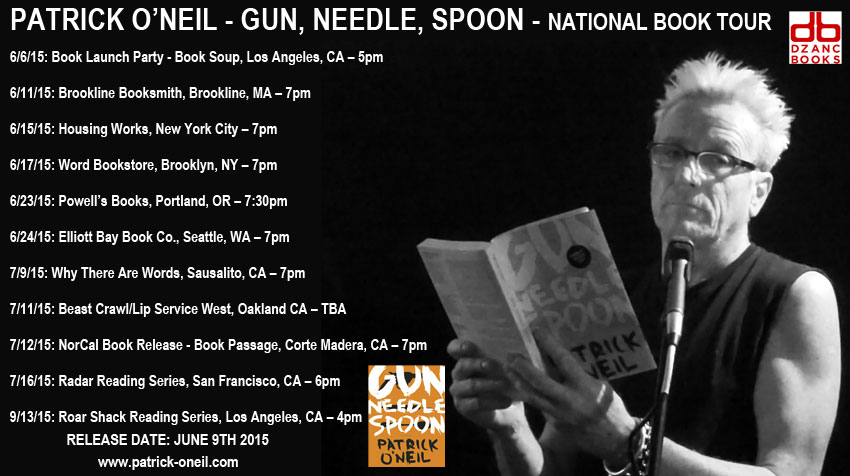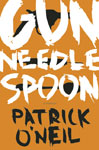 Publisher: Dzanc Books
Publication Date: June 9th, 2015
Paperback: 300 pages
ISBN-10: 1936873575
ISBN-13: 978-1936873579
Available from Dzanc Books, Amazon and Barnes & Noble